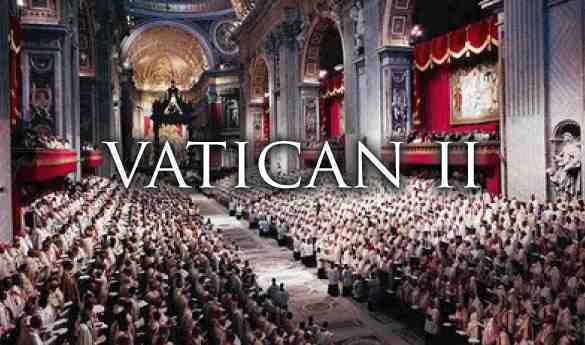 * See below for 16 printer friendly Vatican II documents *
THE SECOND VATICAN COUNCIL
(1962- 1965)
Pope John XXIII (Supreme Pontiff from 1958- 1963), voicing an urgency for this Council, said it was time to "open up the windows" of the Church and "let in some fresh air."
____________
"At the outset of the Second Vatican Council, it is evident, as always, that the truth of the Lord will remain forever. We see, in fact, as one age succeeds another, that the opinions of men follow one another and exclude each other. And often errors vanish as quickly as they arise, like fog before the sun. The Church has always opposed these errors. Frequently she has condemned them with the greatest severity. Nowadays however, the Spouse of Christ prefers to make use of the medicine of mercy rather than that of severity. She considers that she meets the needs of the present day by demonstrating the validity of her teaching rather than by condemnations."
~ St John XXIII
Holy Father, 1958- 1963
Opening Speech at the Council, October 11, 1962
____________
The Second Vatican Council (also known as Vatican II) addressed relations between the Roman Catholic Church and the modern world. As of this writing, it is the last of the 21 Ecumenical Councils of the Catholic Church and the second to be held at St. Peter's Basilica in the Vatican. It opened under Pope John XXIII on October 11, 1962 and closed under Pope Paul VI on December 8, 1965. Of those who took part in the Council's opening session, four have become pontiffs to date:
Cardinal Giovanni Battista Montini, who succeeded Pope John XXIII & took the name of Paul VI;

Bishop Albino Luciani, the future Pope John Paul I;

Bishop Karol Wojtyla, who became Pope John Paul II;

Father Joseph Ratzinger, present as a theological consultant, who became Pope Benedict XVI.
All 16 Vatican II documents have been transformed (in their entirety) into printer friendly versions with wide left margins for 3 hole punching and binder placement. These are great additions to a personal "Faith Library" and are a wonderful resource for Religious Education, small faith sharing groups and/or personal faith enrichment! All 16 documents are listed below- click on any or all to view and/or print!