ARCHDIOCESE OF DETROIT, MICHIGAN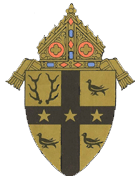 This webpage contains information and resources about the Archdiocese of Detroit and her parishes. Thank you, in advance, for sending any modifications/updates to goodnews@bluewatervicariate.org.
----------------------
The Archdiocese of Detroit's 224 parishes are sectioned into 4 Regions. Each of these 4 Regions, in turn, are sectioned into 4 Vicariates. Each Vicariate includes a number of parishes. Figures in parentheses below indicate the number of parishes within the respective Region or Vicariate.
Click any link below to view Vicariate and Parish information for a respective Region. Additionally, there are printer friendly documents over in the sidebar.
Central Region (41): Genesis (9), Renaissance (13), Southwest (8) & Trinity (11) Vicariates.
Northeast Region (56): Blue Water (10), Central Macomb (23), North Macomb (9), & SERF (14) Vicariates.
Northwest Region (55): Lakes (11), Pontiac Area (10), South Oakland (24), & Thumb (10) Vicariates.
South Region (72): Downriver (17), Monroe (11), Northwest Wayne (23) & West Wayne Vicariates (21).
Each Region is guided by one of the AOD's 4 Auxiliary Bishops. Central Macomb Vicariate is located within the Northeast Region. Our Regional Moderator/Episcopal Vicar is Auxiliary Bishop Michael J. Byrnes.
The 16 Vicariates located within the Archdiocese of Detroit are each represented by a cleric as its Vicar. The Blue Water Vicar is Reverend Joseph Esper, Pastor of Immaculate Conception of Ira Township.